How good is Barmon Stretch Mark Cream?
Here's what our healthy, happy, attractive customers are saying!
Im Inlove with barmon !!!
by huyen




i am a 20 year old that used to show off my body but after having my baby i felt that stretch mark took over my life !! i had them all over the place mostly on my stomach and that was the worst !! but after i tried barmon i was so amazed with the results !some of my stretch marks used to be purple but now its all fading always you can hardly see them ... but not enough yet to show my tummy !! i dont put it on everyday so i understand but im going to put it on now so i can get ready for summer !! thank you barmon !!!

This is the best cream I have ever used for stretch marks. I have three kids and have never been more satisfied in all my life. I have tried anything from stinky lotions to plain old vitamin E, all of which were in vain.
Thank you so much for your product!!
Very Satisfied,
Elissa S.
West Virginia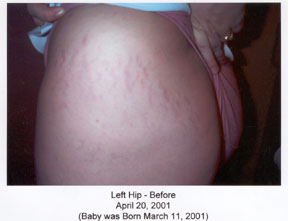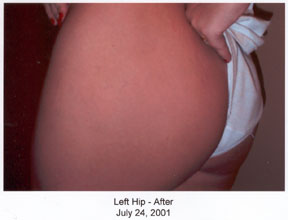 I Love Barmon
by Melody




After my son was born I had a million stretchmarks, okay maybe not a million but they literally are everywhere on my body execpt my head and arms! Anyway I used Palmers ENTIRE skin care line for pregnant women all during my pregnancy and those products did not help prevent them like they are supposed to. I know that stretchmarks are genetic and in my family hey run rapid in my mom and my two sisters. I started using Barmon after doing some internet research on it. I have used it for months but only on my tummy and no where else because those were the ones that I hated the most and now they are so light! I mean they are not gone but my sisters say that my tummy is pretty. They plan on using Barmon too because they have alot of them too. I just bought three more bottles because I am pregnant again and still want to work on fading them on the rest of my body. I love Barmon and everyone is different but if you buy directly from their website you can get your money back if nothing happens to your skin! I am african american and it does work for darker skin tones just to let everyone know. It faded even the super dark thick ones I had. Still working on some though!

Absolutely Love it
by S. Grevious




After I had my son, stretch marks appeared right afterwards on my stomach and back. I tried the usual (Cocoa Butter), but that didn't seem to work, or seemed as if it was going to take forever. One of my friends brought Barmon for me as a birthday gift and I didn't start using it until about 3 weeks later. I didn't think it would work either. Almost 2 weeks later after using the product, I began to see changes. My stretch marks were getting lighter and the lines started appearing less with the wrinkles on the stretch marks. This is a really great product to use. I use it in the morning and at night. I have been using it for a couple of months now. I think in the next few months, my stretch marks will really be unnoticeable. >

You may have heard of Barmon Stretch Mark Cream for some time now and wondered about the effectiveness of the product. So, we decided it was time to review this product and the Barmon company. We found that this company has been producing their stretch mark product for over 25 years and it is clear that their product has won over many devoted customers and loyal fans.


Barmon Stretch Mark Cream is one of our top choices among anti-stretch mark, firming products. Barmon contains a lot of the tried-and-true firming ingredients proven effective over the years including Cocoa Butter, Vitamin E as well as Lanolin.
Our respondents reported very promising results after using this product. We also like the ingredient list which contains a number of toning agents. This combination is likely to work for even those who thought their skin was beyond improvement.
Overall, Barmon's product performed very well among top stretch mark treatments. It's no wonder why this product has gained such widespread popularity over the years. Also of note is the no time limit guarantee, which signifies to us that the company truly stands behind their product.

I just think it has to do with the amount of elasticity you have in your skin - it declines as you age no matter how much lotion you use. I didn't have any stretch marks until about 30-32 weeks, and they're only on my hips. I used lotion and Palmer's stretch mark cream every day - but I still got them. I bought Barmon stretch mark cream (all natural, www.barmon.com) and the older stretch marks are starting to fade already... whether it's natural fading or b/c of the lotion, I don't know. I'm following the same pattern as my mom did - she started getting stretch marks with her 3rd child (at 23 yrs. old) this is my first, and I'm getting the same amount and in the same places! Good luck!
Georgialee

Dear Barmon,
Please send me two jars of Barmon skin care cream - I LOVE IT - it really works on my stretch marks!!
Thank you,
Jeri S.
Laguna Hills, CA

Dear Barmon,
I am writing this letter in regard to your wonderful stretch mark cream. I bought 1 jar in April, shortly after having my second child. I was very embarrassed about my stretch marks and I was determined to find something to get rid of them. I did some research on the internet and your cream was the only one that offered such a confident guarantee. I decided that it wasn't that much money and with your guarantee it was definitely worth a try. A few weeks later I am glad I decided to try your cream, the results are remarkable. I am very impressed with your product and I have recommended it to several people, thank you Barmon! I have included some before and after photos.
Sincerely,
Stacy N.
Colorado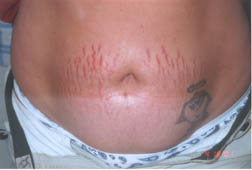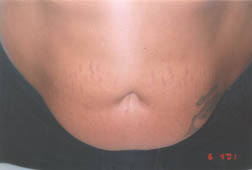 Order Barmon Stretch Mark Cream Securely Online Today!